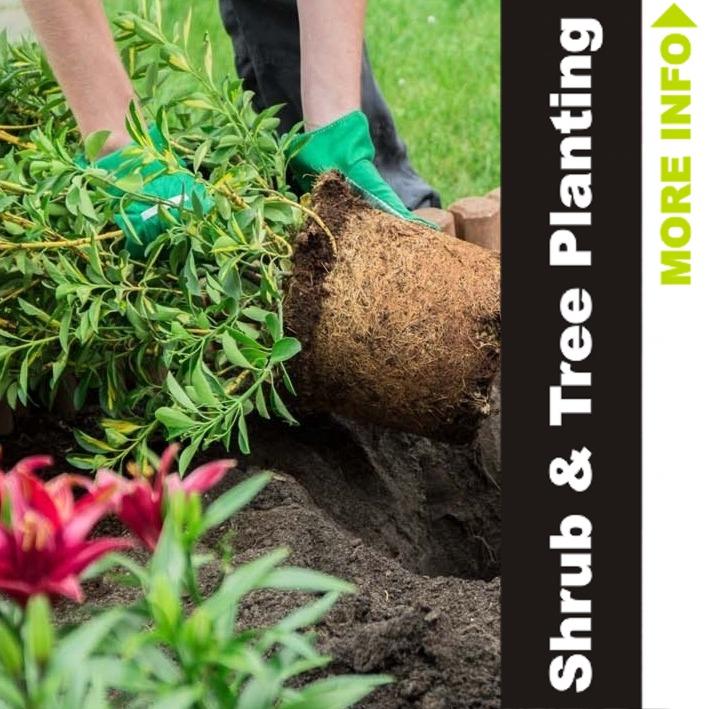 TREE & SHRUB PLANTING SERVICE
Beautiful new shrubs and trees can be the perfect addition to any Garden.
When Secret Gardening plants trees and shrubs, thought & care is taken to make sure the plant is the correct species to suit the area and any foreseeable problems with the plants root system are addressed at the time of planting. This process results in a higher survival rate and less problems in the future, resulting in lower maintenance expenses and a more healthy and vigorous addition to the landscape. 
Secret Gardening can source trees & shrubs for you and we can even design the new shrub beds for you while you sit back and relax. 
Soil & Turf Removal
We will remove an area large enough to accommodate the root ball of the plant. Creating beds is additional and is not included. Whenever possible, we will incorporate existing soil into the landscape, however, off-site removal may incur disposal fees. 
Plant Removal
The planting area needs to be ready to plant in, with the exception of Turf removal. Brush and other debris must be removed prior to the scheduled planting day. Small shrubs may be removed at the time of planting for a fee: £15 per person/per hour. (One hour minimum charge. Advanced notice of removals is required).
100% Satisfaction Guarantee
Planting price includes one-time replacement of plants and re-planting.
Planting Fees
| Container Size | Fee Per Plant |
| --- | --- |
| Up to 2 | £15 |
| 3 | £20 |
| 5 | £25 |
| 6 | £30 |
| 7 | £40 |
| 10 | £50 |
| 15 | £60 |
| 20 | £200 |
| 25 | £250 |
| 30 | £300 |
Balled & Burlap Plants

Approximate Diameter

Root Ball

Fee Per Plant

12-15"

£50

16-19"

£150

20-24"

£250

25-28"

£350
Planting Checklist
To ensure the success of your new trees and shrubs, we ask that you review this pre-installation checklist. If you have any questions, please contact us.
Are drainage, climate and exposure (sun, shade & wind) conditions appropriate for the plants being installed? If you are unsure, please ask us for advice.

Is the area clear of all stumps, ground cover, debris, etc?

Clearly mark all lines if they are in the planting area. Are there gas, power, cable, drain, water, sprinkler or invisible fence lines in the area? 

Have you staked the area to clearly identify where the plants go? Write the name of each plant on each stake.

Is the planting area easy to find? Are all gates unlocked? Can the area be reached with a wheelbarrow?
New Tree & Shrub Care
Watering
After planting, trees and shrubs should be watered thoroughly, then water when soil is dry to the touch - about 1.5-inch or knuckle deep.
Check regularly and only water when necessary. Too much water or lack of water are top reasons plants fail to grow.
Water more frequently during long periods of hot and dry weather. Try to water before noon during warm weather. In the Autumn, be sure to water any new plants once a week until the ground freezes.
If plants are in clay soil, be sure they do not sit in water.
To encourage a deep root system, let a slow trickle of water soak into the soil at the plant base for 10 to 15 min.
Mulch
Keep the soil cultivated and grass-free around trees, or mulch with 1 to 2-inch of organic material such as pine, fir or cypress bark; or soil conditioner.
Fertilizing
A starter fertilize at planting time, which should be sufficient for the first year.
Protection
Trunk-wrap young trees the first winter season to prevent sun-scald. Remove wrap in warm weather. Evergreens should be screened from wind and salt spray.
Contact Secret Gardening sales@secretgardeningco.co.uk