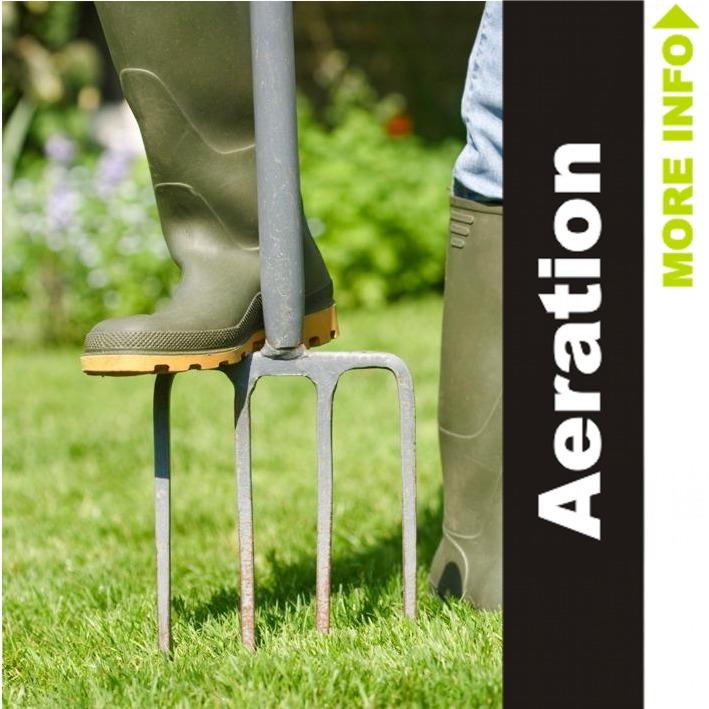 LAWN AERATION
Aeration is Essential and Beneficial
In order to consistently maintain a healthy lawn, aeration must be carried out annually.
When done correctly, aeration can be one of the most beneficial processes for a lawn. This is completed towards the end of the year and is done by using a professional heavy machine, which pushes tine bars into the soil.
The treatment allows air and moisture to enter the soil, and the benefits from this will enable the lawn to improve.
Reduces the compaction of the soil.

Encourages healthy root growth.

Increases root depth.

Improves drainage.

Helps lawns become more drought resistant.

Reduces water runoff.

Helps to break down thatch.

Allows water, air and nutrients to have direct access to the root system.

Makes it easier to over-seed your lawn.

Improves gas exchanges between the soil and atmosphere.

Stimulates soil microbes.
Prices from £20 per Aeration 
| | |
| --- | --- |
| Cost Per Treatment | Lawn Area Aerated |
| £20 | 60 sq m |
| £25 | 140 sq m |
| £30 | 180 sq m |
| £35 | 240 sq m |
| £40 | 290 sq m |
| £50 | 390 sq m |
| £60 | 450 sq m |
| £75 | 750 sq m |
| £110 | 1050 sq m |
| £125 | 1250 sq m |