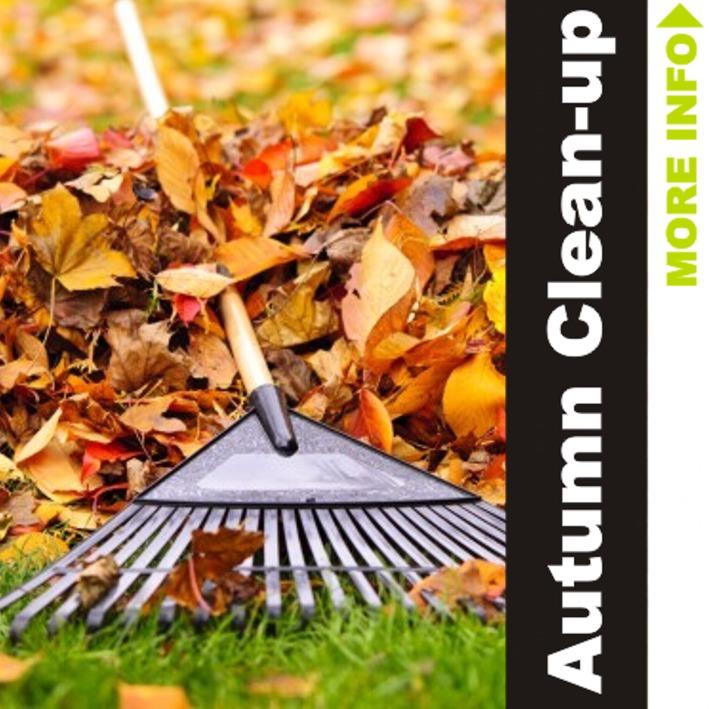 AUTUMN CLEAN-UP
Autumn Tidy Of Your Garden - Getting Your Garden Ready for Winter
As we move deeper into autumn with the declining light and colder daytime temperatures will naturally bring plant growth to a halt. But there's still plenty to do in the garden to get it ready for the winter ahead. At Secret Gardening we just don't think about clearing just the leaves off the lawn we care for the whole garden when tidying up for the Winter.
Here's our guide to the big autumn garden clean up!
Begin by removing any materials used for supporting your plants from the garden, like canes, stakes, or trellises. Clean them with a detergent to kill off any disease and store them away in the garage or shed ready for next spring.

Next tidy up the beds by cutting back perennials and pulling up annuals. Divide any overcrowded perennials and re-position any plants that need it. Plants with attractive seed heads such as grasses can be left for winter interest and to help feed the birds.

Dead plants should be removed from the garden beds and disposed of. If the plant material was healthy, it can be composted but if it showed any signs of disease, it should be disposed of or you risk re-infecting your garden next year with the same disease.

Clean up foliage from roses, peonies, and any plant with diseased foliage. But don't add them to the compost heap!

Tender plants such as cannas, dahlias and geraniums should be lifted and stored in a cool dry place over winter where they will remain in a semi-dormant state.

For tender plants which cannot be lifted such as banana plants and tree ferns, winter wrapping is probably required to protect them from harsh winter conditions. Materials such as fleece, hessian, bracken, straw and polystyrene can be used as insulation.

If you want a display of early spring colour then now is the time to replant the beds with winter bedding such as pansies and wallflowers.

Inspect your trees and remove any broken branches, making a clean cut close to the trunk. Remember this is just a' tidy up', major pruning should not be done until Spring!!

Remove all fallen and rotting fruit from the ground around trees—they will attract pests and diseases which may last through the winter.

Remove as many weeds as possible and lightly till the soil.

When the beds are tidy, mulch them with a thick layer of leaves, straw, grass cuttings, compost or bark chips to maintain soil quality and to protect the base of the plants.

Give your lawn a final cut before winter and fertilise lightly.

Don't leave autumn leaves on the lawn. Rake them up and add to the compost heap in thin layers mixed with other material. Or, rake the leaves into loose piles and run the lawn mower over them to turn them into mulch for perennial and bulb beds.

Empty all your outdoor containers to keep them from cracking during the winter. Disinfect them to get rid of any disease and store them upside down.
Finally, clean and store away your tools. Remove all traces of soil and if you've been trimming diseased plants, disinfect pruners and loppers and dry fully before storing away.
If you struggle for time then let Secret gardening take care of your Autumn clean-up. You will find our prices very reasonable as we keep our advertising costs down to a minimum, so we can keep our costs down to you - In-fact our prices start from as little as £15.00 per hour for a premier service!!
Why not give Secret Gardening a call today 01384 441789 or email sales@secretgardeningco.co.uk and let us take care of yo
ur garden!